By Pet Lovers for Pet Lovers
Let's face it. We all love our fur babies. But man, can those babies shed! Our dogs and cats are members of our family and grooming is an important part of keeping them healthy and happy.
Why Grooming is Essential to Your Pet
Imagine if you were to wake up every day and decide to not "get ready"! Besides looking like something the proverbial 'cat dragged in', it's just flat out unhealthy for your pet.
By brushing your pet, you help ventilate their coat and allow the pores on their skin to 'breathe'. It also helps their coat grow healthy and strong and removes old and damaged hair that can lead to matting. This matting is a mixture of dead hair, dead skin, skin oils, pet dander, dirt, and sometimes 💩. It can be a breeding ground for insects, bacteria, and even cause skin sores. Grooming also maintains the level of skin oils in your dog's coat. Like with people, too much oil can block pores and cause irritation and all sorts of skin problems.
Vacuum brushing their coat also acts as a gentle massage that promotes healthy blood flow for your pet and most pets LOVE a massage as much as their owners do!
Happiness is Bonding with Your Pet
Do you talk to your pet? Come on, you know you do…
Alan Beck, director of the Purdue University Center for the Human-Animal Bond, reports that "97% of pet owners talk to their pets and the other three percent are liars." Whether you use a grooming vacuum, vacuum brush, or vacuum clippers; grooming is a great opportunity for you to bond with your pet! Even the most skittish of pets should get used to it and it will become a comforting and relaxing experience for both of you.
Don't put your dog or cat through the highly stressful process of going to a groomer they don't know at a place they don't know. No matter what kind of grooming you're doing with your pet, there's no question they'll be much more comfortable having you do it than a stranger.
Even if they are finicky about being groomed by you, you can make it a pleasant experience by praising them and rewarding them with treats. Choose a time when you are both relaxed, maybe after a walk when your dog is resting.
And even though you talk to your pet, unfortunately, they can't talk back to you and tell you if there's an issue with their coats or what might be lurking underneath. So, grooming your pet is also a great way for you to be able to see if there are issues between vet visits.
"For those who think you can't groom your poodle, think
again! I taught myself how to groom her with my furMe and my Molly looks like she's ready to win a show medal…"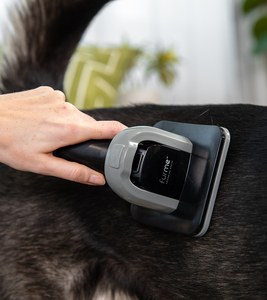 Dog Grooming Meets Technology
It started with the desire to affordably groom our pets on a regular basis at home. All we had was a whole lot of hairy, furry mess to show for it! We knew it was better for our dog to groom him ourselves, but we were tired of having to take him outside to do so. That's where the furMe™️ comes in. No more sitting out in the yard to brush out our pets - we could brush, clip, and de-shed anywhere inside! Knowing the fur can be captured in the vacuum container as we worked is a game-changer!
We did a lot of research and spent a lot of money on separate tools. We had a brush for his coat, a special brush for shedding, and a clipper to trim him where and when he needed it. As hard as we'd try, we'd end up taking a lot of his brushed or trimmed hair back into the house as it either clung to our clothes or it stayed on him and fell off in the house.
Why furMe? We knew there had to be a better way
The more we talked to our friends and family who were also pet lovers, the more we realized this was a universal problem without a universal solution. So, we came up with one ourselves!
furMe™ is a state-of-the-art, 5-tool grooming vacuum kit for you to be able to brush, de-shed, clip, and trim your pet – all in the comfort of your (and your pets') home! The best part is, we designed furMe™ to vacuum and contain your pets' hair as you go. No more grooming followed by cleanup. With furMe™, it's an all-in-one solution. And since we had experience buying and using separate clippers, brushes, and other tools to groom him, we designed furMe™ with the things we liked best about the other tools – and we designed out the things we didn't like.
That's why furMe™ contains nothing but the best and most advanced tools you can buy that work in unison with each other.
"I can't believe how easy to use my furMe pet grooming kit is.

The best part is the vacuum. It picks up all of my (dogs') hair that we cut!"
Why furMe™ Pays for Itself Quickly!
We were tired of spending money every 4 to 6 weeks getting our dog groomed. Depending on your pets' size and the type of grooming you have done, grooming can cost anywhere from $50 to $90 or more per session. Most people groom their dogs every 4 to 6 weeks on average so, we did the math and decided we needed a Do it Yourself (DIY) solution just based on the amount of money we were spending on taking him to a place to get groomed.
Even if you are spending on the low side ($50) for grooming and taking your pet to be groomed every 6 weeks instead of monthly, here's what you would be spending on a yearly basis:
***
Grooming Frequency – Every 6 weeks is approximately 8 times per year.
Grooming cost – We'll look at the lower end of typical grooming costs at $50.
Total Annual Grooming Cost – 8 times per year at $50 each = $400
And, if you happen to own more than one dog, your grooming costs double to about $800 per year!
***
What does this all mean?
It means that after only 3 to 6 months, your furMe™ pays for itself!
And this doesn't even factor in the time and effort it takes for you to bring your pet and pick them up from the groomer or the emotional trauma many pets feel when being groomed in an unfamiliar place by an unfamiliar person. That alone makes the furMe™ worthwhile for most people we hear from.
A Heartfelt Thank You!
For our loyal furMe™ customers – We can't thank you enough for your continued support and the kind feedback on our pet grooming kit! We're so glad you love it and please keep the feedback coming.
We'd love to have you join our list of rapidly growing, satisfied furMe™ owners. For a limited time we're offering a 10% discount on our original furMe™ pet grooming kit for new customers only. We won't keep this offer going for long so if you or a friend is thinking of ordering, please don't wait. We'd hate to see you (and your pet) miss out on this rare discount for the leading DIY pet grooming kit on the market today. Simply sign up for our newsletter and the code will be emailed to you instantly!

Fast Free Shipping
1-3 Day Shipping is 100% FREE to all 48 United States and we get all orders out in 1 business day!

Worry-Free 40 Day Returns
40-Day Money Back Guarantee that you'll love your new furMe™️ Professional Pet Grooming Kit

Live (Human) Support
Have questions as you're browsing? Need product support? Chat with us Monday - Friday 10AM - 7PM Eastern

American Owned
Proudly an American owned and operated small business